Top 10 Must-See TV Shows for Your Next Watch Party
After being cooped up for the last few months, it's no surprise that most of us have burned through our favorite TV shows and popular movies. With an almost infinite number of things to watch, it can be hard to pick your next binge-worthy favorite. Have no fear. Great Bay Home is here to help.
From sitcoms, to action thrillers, home-improvement shows, and everything in-between, we've got you covered with a list of our top 10 Must-See TV shows for your next quiet evening or socially distanced watch party.
1.    Fixer Upper
Photo credit: Joanna Gaines via Instagram 
HGTV star's Chip and Joanna Gaines have exceeded all rating's expectations, with their hit home-improvement show "Fixer Upper." Whether or not you're a current fan of the show, you've no doubt seen their friendly faces grace the covers of magazines and advertisements across the country. The husband and wife team first gained notoriety for Joanna's unparalleled interior design skills, Chip's "anything's possible" craftsmanship, and the duo's limitless charisma--which has inspired home-owners the world over.
If you're looking for some awesome reality television, you can do no wrong with this power-couple's endearing dynamic and "can-do" attitude. From Joanna's innovative designs and spirit, to Chip's charmingly goofy personality and dedicated handiwork, these two will keep you and your family entertained, engaged, and craving for more. In fact, the floral toile print design, from the velvet plush slipcovers in our Gale Collection were inspired by their work. Take your home and entertainment to the next level, and add this lovely duo to your watch-list.
2.    Brooklyn Nine-Nine
Photo credit: NBC via Instagram
Looking for a knee-slapping workplace comedy that isn't named "The Office" or "Parks and Recreation"? Congratulations, you need look no further than NBC's hit comedy, "Brooklyn Nine-Nine." Starring SNL-alum, Andy Samberg, as a light-hearted and playful NYPD detective, the show tackles the violent, fast-paced world of crime in NYC, to hilarious effect.
In addition to Samberg's trademark boyish charm, the show boasts an ensemble cast that includes Andre Braugher (as the straight-laced but formidable Captain Holt), Stephanie Beatriz, Terry Crews, Melissa Fumero, Chelsea Peretti, and Dennis "Dirk" Blocker. While you watch, why not cuddle up with a stylish ultra-velvet plush throw blanket from our Kinsley Collection?
This reversible sherpa blanket is the perfect companion for your next binge-session.
3.    The Handmaid's Tale

Photo credit: Hulu

How about a more serious drama to quell your need for entertainment? Then you're looking for "The Handmaid's Tale." Based on the classic novel of the same name, by Margaret Atwood, this 8x Primetime Emmy Award winner (including a win for "Outstanding Drama Series.") paints a vivid and horrifying portrait of a dystopian future, where women are bought and sold like cattle.
Starring AMC's "Mad Men"-breakout, Elizabeth Moss, in a star-making turn as June Osborne, the show follows her journey as she's ripped away from her family and forced into slavery. Not only will this show have you on the edge of your seat, but it touches on some eerily relevant cultural points that'll leave you breathless. However, you can cozy up with the stunningly designed heavyweight turkish cotton flannel sheets from our Raye Collection, if things get a bit too intense.
4.    The Marvelous Mrs. Maisel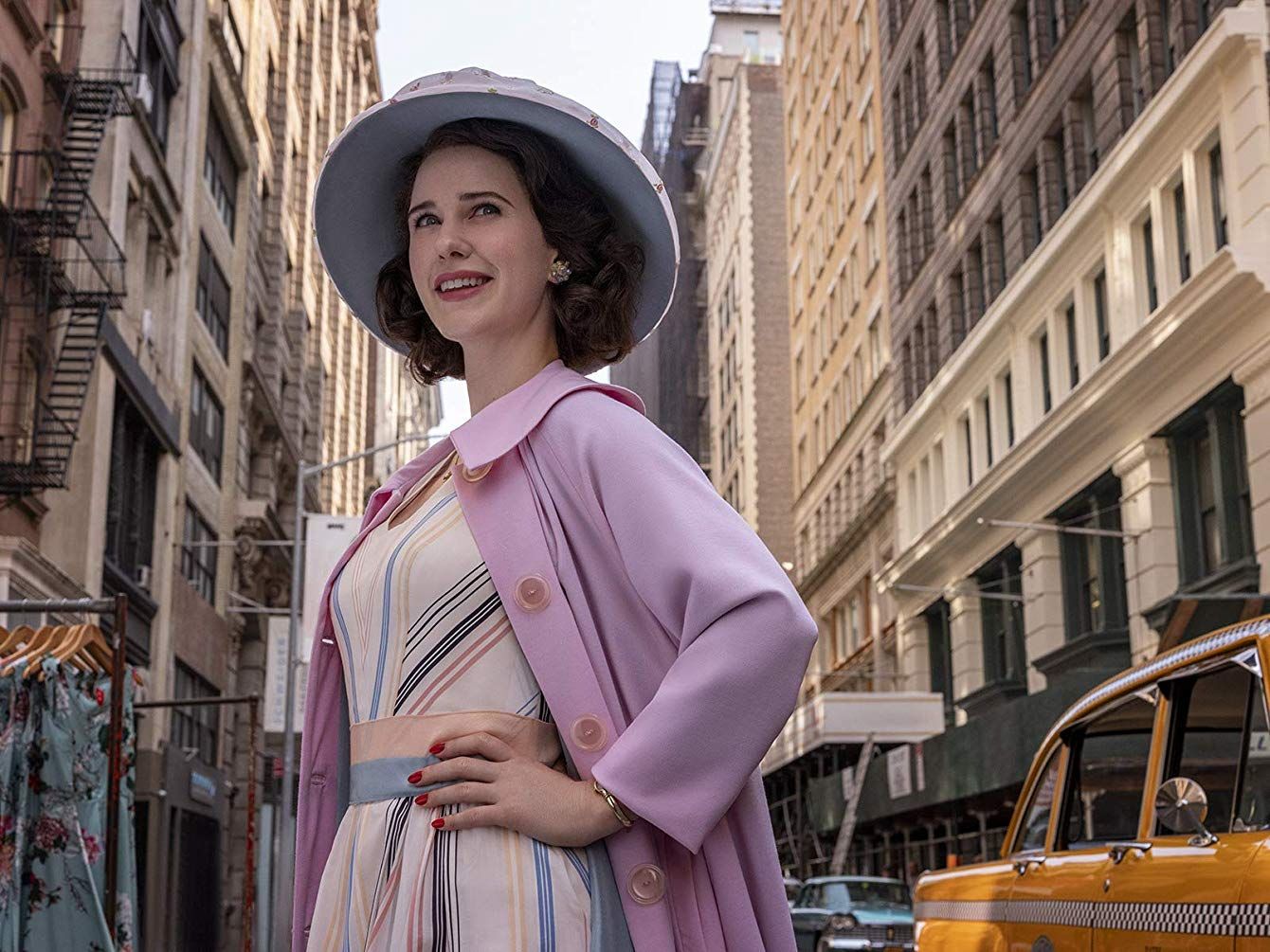 Photo credit: Amazon Prime Video
Amazon's cleverly scripted, "The Marvelous Mrs. Maisel," is a period-comedy drama that has been a critical darling since it first burst onto the scene in 2017. Starring the fantastic Rachel Brosnahan ("House of Cards"), as Mrs. Maisel herself, the show is set in the 1950's and follows her rise from discontent housewife to emerging star as a female comic, in an age where such a move was considered radical. From drama, comedy, romance, and overcoming stereotypes and misogyny, this show has just about everything you'd expect from a critically-acclaimed multi-award winning series.
If you enjoy the unique style of the era, then you need the gorgeous floral patchwork print furniture protectors from our Maribel Collection. Available in a variety of colors and crafted with elegant scalloped edges, these furniture protectors are perfect for keeping your chairs, loveseats, sofas, and recliners from spills, gunk, crumbs, and stray pet hair. Transform your living room into a chic '50's hangout and immerse yourself in this stellar series.
 5.    Cobra Kai
 Photo credit: Youtube
YouTube Premium's (also available on Netflix) "Cobra Kai," examines what happens to the classic character's of iconic 80's film, "The Karate Kid." Following a middle-aged and down on his luck Johnny Lawrence (William Zabka) and successful karate master Daniel LaRusso (Ralph Macchiao), the series explores what their lives have become since their epic showdown 34-years prior. When Daniel opens a dojo of his own--in addition to having a wealthy lifestyle and beautiful family--Johnny, now virtually unemployed and envious, decides he can take no more, and reignites their rivalry when he reopens Cobra Kai.
In a surprisingly stern and emotional take, the show moves far beyond it's "good vs. evil" roots, and instead delves into the social and economic factors that have shaped the men they have become. It's an entirely compelling and binge worthy watch that has slowly crept its way into mainstream consciousness, as a tour de' force of the genre. If you have some little "karate-masters" of your own, why not snuggle them up in exciting reversible velvet plush and sherpa blankets from our Berber Velvet Collection? There's no better way to enjoy these iconic characters, then with classic patterns and designs that thrill and excite.
6.    House Hunters International
 Photo credit: HGTV
Arguably HGTV's flagship show, "House Hunters International" follows prospective home buyers from around the globe, as they embark on the search for their perfect home. In addition to examining the various housing markets from continent to continent, the show offers scenic shots of the country-sides, ocean bluffs, and homes that would leave even the most casual viewer speechless. "House Hunters International '' also showcases a litany of layouts, designs, amenities, and extravagances that you simply won't get with many other shows.
Similarly, the reversible holiday sherpa throws from our Eve Collection, showcase a variety of scenic prints that include snowy mountains, lively nature, prancing reindeer, winter alps, and chilly mountainside lodges that can carry you and your family off to dreamland for nights and naps on end. Wrap yourself in these warm, soft, and fuzzy velvet plush throws as you dive into the equally glorious scenes you'll see when you watch the House Hunters do what they do best.
7.   Ozark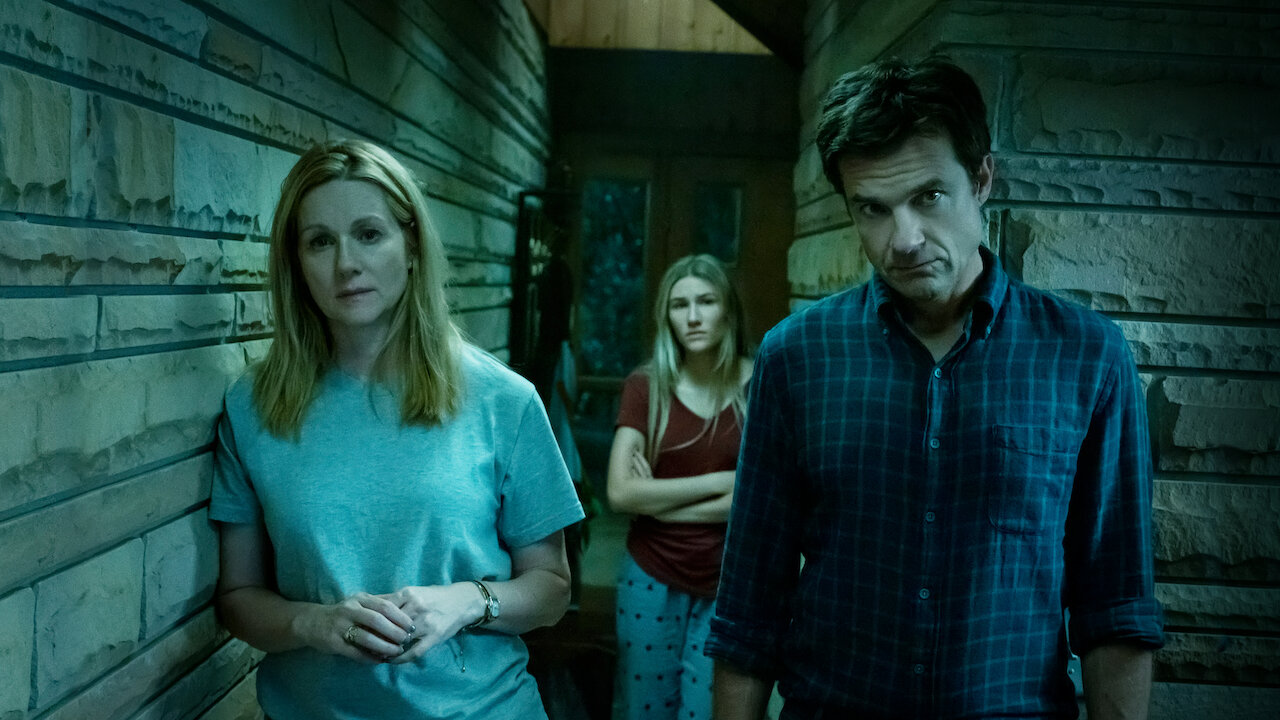 Photo credit: Netflix

Starring Hollywood mainstays Jason Bateman and Laura Linney, "Ozark" is Netflix's answer to the critically acclaimed "Breaking Bad." Boasting equal critical acclaim, Ozark follows financial advisor, Martin "Marty" Byrde (Bateman) and his family as they are swept up into the world of organized crime, via a money-laundering scheme gone terribly wrong. In an attempt to make amends to the faulted Mexican drug cartel, Marty proposes an even bigger money-laundering operation in the Lake of Ozarks region of central Missori. The proposal? 5 years to "wash" $500 million in illegal funds.
After relocating, the Byrde's find themselves in even steeper waters--becoming entangled with local criminals, the Kansas Mafia, and their own inner-family turmoil. Entering its final season, the stakes have never been higher, the drama has never been bigger, and the ground is shrinking beneath their feet. The popular web-series has been nominated for 32 Emmy awards (including wins for "Outstanding Directing for a Drama Series" and "Outstanding Supporting Actress in a Drama Series"). Catch-up before the new season airs, and cuddle tight with a velvet plush lodge blanket from our Elk Lodge Collection, to set the mood. You don't want to be late to this watch-party when all of the action and drama come to a climax.
8.    McMillions
 Photo credit: HBO

If you're in the mood for a true-crime documentary, then HBO's McMillions is one you don't want to miss. Following the infamous McDonald's monopoly promotion scam, spanning from 1989 to 2001, this exciting docu-series examines how the primary perpetrator, Jerry Jacobson, managed to swindle the global burger-chain out of roughly $24 million in fraudulent winnings.
Over the course of six episodes, we have a front seat to all of the action, as the FBI and other legal authorities attempt to crack the case. With previously unreleased footage, in-depth interviews, and the exposure of an intricate web of lies that led to the successful heist, this series is both enthralling and effective in capturing the chaos of one of the most well-known and elaborate crimes in recent memory. With 5 Primetime Creative Emmy Award nominations, we don't need to tell you how good this is.
While you're entangled with this heart-racing series, wrap up with a reversible velvet plush sherpa from our Allura Collection. These textured and cozy reversible sherpa blankets are available in three distinct and bold colors, boast a dynamic design, and come in every size. You'll need something to hold onto while enjoying this gripping look into white-collar crime.
9. Taste the Nation with Padma Lakshmi
Photo credit: Hulu

Need something a little more down-to-earth after all of the high-throttle action, intense legal drama, and house-hunting? Then we've got a question, are you also a foodie? If so, then you'll love the Hulu exclusive "Taste the Nation with Padma Lakshmi." A unique take on the food exploration genre, "Taste the Nation" follows world renowned activist, philanthropist, and television host, Padma Lakshmi, as she journeys across America--exploring the rich, diverse, and delicious foods of various immigrant cultures--in search of the recipes that have shaped how we prepare food right here at home.
It's a thrilling watch, if only for the vast expanse of tastes, recipes, personalities, and styles that have contributed to mainstay dishes in kitchens from one coast to the other. To make things even better, Padma Lakshmi is a gem and so fun to watch, you'll feel like you've known her for a lifetime. While you're cozying up with this amazing show, settle in with a lightweight ultra velvet plush blanket from our Avianna Collection. Available in a wide variety of stunningly bold colors, they're a meal for your eyes and a feast for your comfort.
10. It's Always Sunny in Philadelphia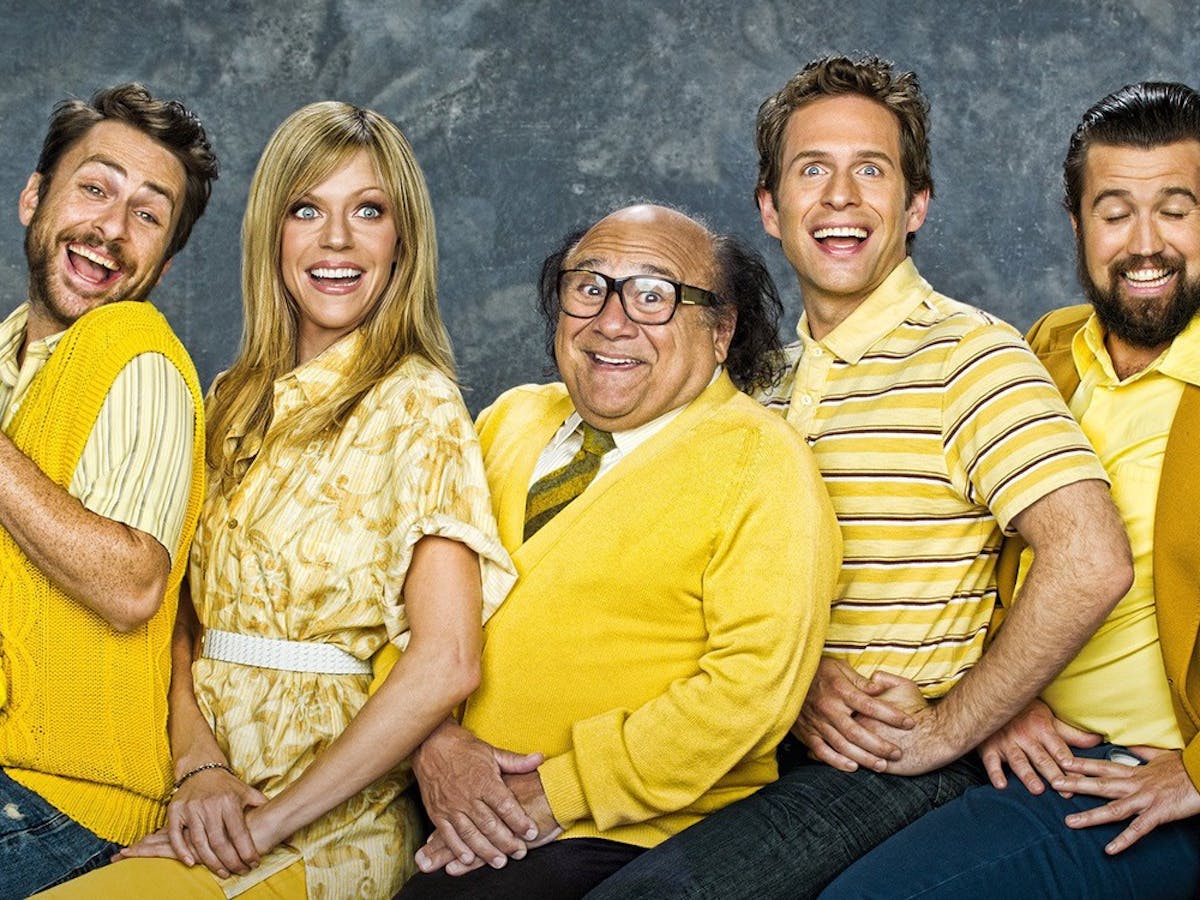 Photo credit: FX
Based in the glorious and historic city of its namesake, "It's Always Sunny in Philadelphia," is one of the longest-running live-action comedy series of all time (Take that, "Seinfeld") for good reason. Centering around four zany, 30-something, Philadelphia natives (with the addition of a more than welcome crazed-turn from icon Danny DeVito), the series follows them through, mostly disconnected, episodes of random and hysterical adventures that center around the fictional "Paddy's Pub."
These narcissistic nuisances have been lighting up television screens across the world since 2005, and the show has become well-known for its chaotic energy, witty writing, and gut-punching hilarity. If you're looking for something to take your mind off of current events--without having to feel too emotionally invested--then this is the show for you. At 15-seasons and counting, millions of loyal viewers can't be wrong.
While you're watching these manic misfits wreak havoc in the city of "Brotherly Love," curl into a sherpa plush velvet blanket that you'll love, from our Hudson Collection. This lightweight velvet plush throw blanket is perfect for long weekend binge-watches and comes in a variety of rustic lodge prints to keep you warm this season.
Whether you're in the mood for a side-splitting comedy, a tear-jerking drama, or a riveting crime documentary, with Great Bay Home, you're always ready to cuddle comfortably on the couch for your next binge-watching session.
Don't forget to grab yourself some slipcovers so you can put your feet up, relax, and enjoy the show without worrying about messing up the furniture.
As Always…
We've Got You Covered,
--GBH